Office Hours
| | |
| --- | --- |
| Mon. | 8:30am - 7:00pm |
| Tues. | 7:00am - 5:00pm |
| Wed. | 8:00am - 7:00pm |
| Thurs. | 8:00am - 8:00pm |
| Fri. | 8:00am - 2:30pm |
| Sat. | 9:00am - 2:00pm (once a month) |
Check-Ups & Cleanings
You are never too old to have healthy teeth and gums. Taking care of your teeth is just as important at any age. Making the choice to take care of your teeth and gums at home every day will make a big difference in your health and how you feel.
If it has been longer than one year since you have seen a dentist or dental hygienist, please give us a call today for a check-up and cleaning.
Keeping your teeth and gums healthy may lower the risk of heart and lung disease. It can also affect the control of your blood sugars if you have diabetes. Gum disease and tooth decay are infections caused by bacteria which can spread through the blood to affect other parts of the body. Gum disease may increase your risk for heart disease by 1 to 3 times. Problems in the mouth can affect your total health and wellness.
Related Oral Hygiene Articles
Oral Hygiene – Dental Health for Life
The best tools for maintaining your oral health and minimizing dental problems are a quality toothbrush, toothpaste, a roll of dental floss, approved mouthwash and good diet. Unfortunately, myths and folklore abound on how and what to use to best effect. This article cuts through the confusion with a winning game plan for oral health... Read Article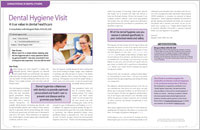 Dental Hygiene Visit
Each dental hygiene visit begins by reviewing your health history to identify issues that may necessitate special precautions during dental hygiene care to ensure your safety and to prevent medical emergencies... Read Article
Flossing - A Different Approach
Flossing is important but challenging for some - this approach may make your life easier! Research suggests that while most people will habitually brush their teeth, developing a flossing habit is still a bit more difficult. Flossing however, remains the best method for most effectively removing plaque from between the teeth where the brush won't reach... Read Article
Locations
Queenston
631 Queenston Road
Sute 301
Hamilton, ON, L8K 6R5
(905) 573-1030
Binbrook
2668 Binbrook Road East
Suite 101
Binbrook, ON, L0R 1C0
(905) 692-1030
---
Contact Us
If you would like to become a patient or to learn more about the services we provide, please fill out the form below so that we may best serve you.