Office Hours
| | |
| --- | --- |
| Mon. | 8:30am - 7:00pm |
| Tues. | 7:00am - 5:00pm |
| Wed. | 8:00am - 7:00pm |
| Thurs. | 8:00am - 8:00pm |
| Fri. | 8:00am - 2:30pm |
| Sat. | 9:00am - 2:00pm (once a month) |
Crowns & Bridges
In dentistry, crowns and bridges refers to the restoration of natural teeth that have been damaged, decayed or lost. A crown can be made to restore an individual tooth damaged by decay or a fracture back to its original form and function. A bridge is used to replace one or more missing teeth. These restorations are cemented onto the teeth and are referred to as "fixed" dentistry as opposed to a restoration of missing teeth with a removable appliance or partial denture
When teeth are heavily decayed they may be too weak to survive with just a filling. By placing a crown, a tooth may be given a new lease of life. Crowns may be made from several different materials, gold and porcelain being the most common types to restore and protect the decayed tooth.
A bridge allows the dentist to replace lost teeth without the use of a denture or dental implant. Basically a false tooth is held in place by being attached to the teeth on either side of the gap. The disadvantage is that the teeth next to the space have to be prepared in a similar way to a crown in order to accept the bridge.

Crowns and Bridges explained by Oxford Dentist by oxforddentist
Related Dental Crown Articles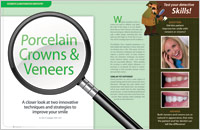 Porcelain Crowns & Veneers
A closer look at two innovative techniques and strategies to improve your smile. In many instances these two restorative techniques can produce nearly identical esthetic results, even though they are structurally different... Read Article
Value Of Quality Care
Are all crowns created equal? One of the most important factors adding to cost is the quality of the crown itself. Another fact is that dentists generally sub-contract out crown manufacturing to a dental laboratory technician, as they rarely make crowns themselves... Read Article
Creating In-Office Dental Restorations With Computers
Once upon a time, dentists - and patients - needed to wait weeks for a dental laboratory to make crowns and other dental restorations. Now, with an exciting digital technology known as Computer-Aided Design/Computer-Aided Manufacturing (CAD/CAM), some dentists are fabricating high-quality restorations themselves right in their own offices - in minutes! Read Article
Locations
Queenston
631 Queenston Road
Sute 301
Hamilton, ON, L8K 6R5
(905) 573-1030
Binbrook
2668 Binbrook Road East
Suite 101
Binbrook, ON, L0R 1C0
(905) 692-1030
---
Contact Us
If you would like to become a patient or to learn more about the services we provide, please fill out the form below so that we may best serve you.