Office Hours
| | |
| --- | --- |
| Mon. | 8:30am - 7:00pm |
| Tues. | 7:00am - 5:00pm |
| Wed. | 8:00am - 7:00pm |
| Thurs. | 8:00am - 8:00pm |
| Fri. | 8:00am - 2:30pm |
| Sat. | 9:00am - 2:00pm (once a month) |
Smile Makeovers
Imagine having a perfect white smile. It can change how people see you and how you feel about yourself. You may even catch yourself smiling more.
Tremendous advances make enhancing your smile as simple as getting your nails done. So there really is no longer any reason to have a less than perfect smile these days.
Dr. Paul Fraccaro has been a dentist in Hamilton, Ontario for over 18 years. He is an experienced cosmetic dentist that blends the science and art to create beautiful, healthy smiles. His most enjoyable moments are when patients first see their new smile and, with tears in their eyes say, "Oh I can't believe the difference, I wish I had done this sooner!"
More and more people are looking for that perfect, white gleaming smile that is a picture of health and confidence. Ask Dr. Fraccaro to share with you the latest advances that have become available to give you a picture perfect smile. Look over the dramatic changes in their "Before and After" photo book to see what kind of changes to your smile are possible.
Related Cosmetic Dentistry Articles
Cosmetic Dentistry – A Time For Change
Join us as we review the myriad of possibilities available to you for cosmetic dental change. But the biggest part is not just how your smile looks, it's how you feel when you show it... Read Article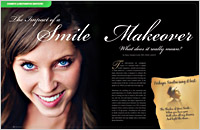 The Impact of a Smile Makeover
Americans are catching on to the emotional and social importance of a healthy, beautiful smile, and they're seeking out ways to improve their smiles. Learn why and what a change could mean for you... Read Article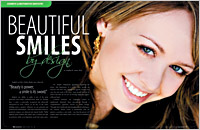 Beautiful Smiles by Design
The first in a series of articles dedicated to the "art and science" of designing a more appealing smile. One of the country's foremost leaders in cosmetic dentistry discusses how you and your dentist partner to create a great new look... Read Article
How And Why Teeth Wear
Are teeth supposed to last for a lifetime? And are humans designed to live for up to a hundred years? Given all the current improvements in the areas of medicine and health, both general and oral, people are not only living longer, but they are also keeping their teeth longer. This article will provide an overview of the "oral system" and one of its more common and important occurrences, tooth wear... Read Article
Locations
Queenston
631 Queenston Road
Sute 301
Hamilton, ON, L8K 6R5
(905) 573-1030
Binbrook
2668 Binbrook Road East
Suite 101
Binbrook, ON, L0R 1C0
(905) 692-1030
---
Contact Us
If you would like to become a patient or to learn more about the services we provide, please fill out the form below so that we may best serve you.