Office Hours
| | |
| --- | --- |
| Mon. | 8:30am - 7:00pm |
| Tues. | 7:00am - 5:00pm |
| Wed. | 8:00am - 7:00pm |
| Thurs. | 8:00am - 8:00pm |
| Fri. | 8:00am - 2:30pm |
| Sat. | 9:00am - 2:00pm (once a month) |
Nitrous Oxide Sedation

(Laughing Gas Relaxation Dentistry)
Nitrous Oxide or "Laughing Gas" is one of the safest forms of sedation available. It can take the anxiety out of most routine and long dental procedures like cleanings and root canals. Non-allergenic and non-irritating, most patients feel the onset effects within minutes which are completely reversed within about 5 minutes of gas termination. This complete reversal allows you to safely drive home or go to work right after your appointment!
Almost anyone can have nitrous oxide treatment. We can vary the depth of sedation depending on your level of anxiety. The gas also tends to reduce gag reflexes and saliva flow. Most importantly, you will bask in a feeling of relaxation as we care for you in the comfort of our office and our team of dental professionals. For patients with extreme dental fear or anxiety, we offer I.V sedation.
The gas is administered through a simple rubber hood that rests on your nose providing a feeling of numbness, security, and warmth. At or near the end of your treatment, we will provide you with 100% oxygen so you will feel completely normal within 5-10 minutes. At that point, you are 100% ready to independently carry on your life with your new smile. At Fraccaro Dental Group we care about your comfort and well-being.
Call us for a private and confidential consultation today!
Related Sedation Dentistry Articles
Oral Sedation Dentistry
Step out from under the shadow of fear and into the calm of sedation dentistry. There are safe and time-tested options available to ensure that you have a positive and painless dental experience. Your apprehension and hypersensitivity to pain melt away, yet you remain awake and in control... Read Article
Overcoming Dental Fear & Anxiety
It's possible, even for those people who are the most fearful, to reduce their fear and to learn to have treatment in a way that feels calm and safe. Here's how... Read Article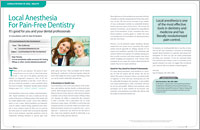 Local Anesthesia for Pain-Free Dentistry
Local anesthesia is one of the most effective tools in dentistry and medicine. It is safe, effective and has totally revolutionized pain control. Without local anesthesia, some dental procedures would be quite stressful for all involved. It's good for you and for your dental professionals... Read Article
Locations
Queenston
631 Queenston Road
Sute 301
Hamilton, ON, L8K 6R5
(905) 573-1030
Binbrook
2668 Binbrook Road East
Suite 101
Binbrook, ON, L0R 1C0
(905) 692-1030
---
Contact Us
If you would like to become a patient or to learn more about the services we provide, please fill out the form below so that we may best serve you.