Office Hours
| | |
| --- | --- |
| Mon. | 8:30am - 7:00pm |
| Tues. | 7:00am - 5:00pm |
| Wed. | 8:00am - 7:00pm |
| Thurs. | 8:00am - 8:00pm |
| Fri. | 8:00am - 2:30pm |
| Sat. | 9:00am - 2:00pm (once a month) |
Dental Sealants
A dental sealant is a thin plastic coating that covers the chewing surfaces of back teeth (molars) to prevent tooth decay. Most decay occurs on the chewing surfaces of molars. These chewing surfaces can have natural pits and grooves that trap plaque and food particles. Routine brushing cannot remove the plaque and food particles trapped in these pits and grooves. Sealants prevent decay and save the structure of the natural tooth by filling in the pits and grooves and leaving a smooth surface that is easy to clean with normal brushing.
It is best if the sealant is applied soon after the molars have erupted, before the teeth have a chance to develop decay. Sealants can be clear, white, or slightly tinted and cannot be seen when a child talks or smiles. Getting sealants is a painless process that only takes minutes.
Dental Sealants Articles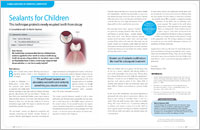 Sealants for Children
The tiny grooves in your child's back teeth are ideal places for cavities to form. But you can take a proactive role in preventing this with dental sealants. These are protective plastic resin coatings placed in these tiny pits and fissures of teeth, actually sealing them from attack. It's a wonderful method of decay prevention that every parent should consider... Read Article
What is Tooth Decay? – And How to Prevent It!
Tooth Decay is an infection, and many people don't realize that it is preventable. This article is the first in a series about tooth decay, perhaps the number one reason children and adults lose teeth during their lifetime. Explore the causes of tooth decay, its prevention and the relationship to bacteria, sugars and acids... Read Article
How to Help Your Child Develop the Best Habits for Oral Health
Proper oral health habits are easy to learn - and lead to behaviors that result in life-long dental health. And the time to begin is as soon as your child's first baby teeth appear. From tooth-brushing for your toddler to helping your teenager stay away from tobacco, Dear Doctor offers the most important tips for healthy habit formation through childhood and beyond... Read Article
Top 10 Oral Health Tips For Children
There's no need to wait until your baby actually has teeth to lay the foundations for good oral or general health. In fact, good nutrition and oral hygiene can start right away. It is up to you to develop the routines that will help protect your child from tooth decay and other oral health problems. So let's get started... Read Article
Locations
Queenston
631 Queenston Road
Sute 301
Hamilton, ON, L8K 6R5
(905) 573-1030
Binbrook
2668 Binbrook Road East
Suite 101
Binbrook, ON, L0R 1C0
(905) 692-1030
---
Contact Us
If you would like to become a patient or to learn more about the services we provide, please fill out the form below so that we may best serve you.