Office Hours
| | |
| --- | --- |
| Mon. | 8:30am - 7:00pm |
| Tues. | 7:00am - 5:00pm |
| Wed. | 8:00am - 7:00pm |
| Thurs. | 8:00am - 8:00pm |
| Fri. | 8:00am - 2:30pm |
| Sat. | 9:00am - 2:00pm (once a month) |
IV Sedation
Even with the best intentions and chairside relaxation skills of our dental team, some children, teens and adults just cannot handle regular dental appointments or treatment. Those with severe gag reflexes, sensitive teeth or limited time to spend on dental care at the dentist can all benefit from sedation dentistry.

Are you a Candidate For Sedation Dentistry?
If you have any of the following:
• Fear or anxiety of dental treatment
• History of traumatic dental experiences
• Difficulty getting numb
• Very sensitive gag reflex or difficulty opening
• Extremely sensitive teeth
• Limited time to get your dental care completed
• Complex dental problems; or a need for surgery
• Postponing needed dental treatment
• Have not received professional dental care in many years, perhaps decades
• Go from dentist to dentist, or doctors, to renew painkiller prescriptions for dental problems
• Often make and then cancel dental appointments
• Experience sweaty palms or find yourself gripping the armrests
• If you hate the noises, smells and tastes associated with dental care
…then yes, I.V. sedation can help you! You can enjoy "twilight sleep" while we do the work.
How Sedation Works
With safe and proven techniques, our patients receive sedative drugs which work rapidly to create a relaxed state that is maintained and monitored throughout treatment. Beyond creating an optimal environment for you, dentistry with I.V. Sedation also allows us to complete multiple procedures in one single appointment.
An I.V. is started by the IV Certified Dentistis allowing all medications for relaxation to enter your body. You will not remember or be aware of any procedures or even "getting numb." You breathe on your own. This is not like the hospital anaesthesia where a machine breathes for you.
Sedation Facts:
• It Really Works! You really can relax through your dental appointment.
• You will have little or no memory of the experience.
• You won't remember any sounds or smells.
• You can relax for up to five to six hours depending on your needed treatment.
• Complex dental treatments that often require multiple appointments can often be done in as little as one or two!
• People who have difficulty getting numb will have no problem when relaxed.
• Sedation dentistry is a safe way to reduce the fatigue of extended dental treatment requiring long visits.


At Fraccaro Dental Group, we offer I.V. Sedation and Nitrous Oxide (laughing gas) Sedation to treat various levels of anxiety. Phobic or fearful patients can be totally relaxed and have little memory of their appointment.
Call us for a private and confidential consultation today!
Related Sedation Dentistry Articles
Oral Sedation Dentistry
Step out from under the shadow of fear and into the calm of sedation dentistry. There are safe and time-tested options available to ensure that you have a positive and painless dental experience. Your apprehension and hypersensitivity to pain melt away, yet you remain awake and in control... Read Article
Overcoming Dental Fear & Anxiety
It's possible, even for those people who are the most fearful, to reduce their fear and to learn to have treatment in a way that feels calm and safe. Here's how... Read Article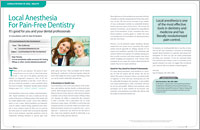 Local Anesthesia for Pain-Free Dentistry
Local anesthesia is one of the most effective tools in dentistry and medicine. It is safe, effective and has totally revolutionized pain control. Without local anesthesia, some dental procedures would be quite stressful for all involved. It's good for you and for your dental professionals... Read Article
Locations
Queenston
631 Queenston Road
Sute 301
Hamilton, ON, L8K 6R5
(905) 573-1030
Binbrook
2668 Binbrook Road East
Suite 101
Binbrook, ON, L0R 1C0
(905) 692-1030
---
Contact Us
If you would like to become a patient or to learn more about the services we provide, please fill out the form below so that we may best serve you.