Office Hours
| | |
| --- | --- |
| Mon. | 8:30am - 7:00pm |
| Tues. | 7:00am - 5:00pm |
| Wed. | 8:00am - 7:00pm |
| Thurs. | 8:00am - 8:00pm |
| Fri. | 8:00am - 2:30pm |
| Sat. | 9:00am - 2:00pm (once a month) |
Porcelain Veneers
Porcelain veneers are ceramic facing that are bonded to the front surfaces of anterior teeth. Porcelain veneers are an excellent treatment to restore dark, stained, malformed, crowded or otherwise aesthetically compromised front teeth.
The average thickness of a porcelain veneer is usually less than 0.75 mm. Typically, the teeth receiving porcelain veneers must first be lightly ground or prepared to make room for the veneers.
Advantages
Conservative (compared with crowns)
Durable
Highly aesthetic & natural
Treatment can be completed in as little as 2 visits
Call us for a private and confidential consultation today! 905-573-1030

Related Porcelain Veneer Articles
Smile Design Enhanced with Porcelain Veneers
In part two of the series on Smile Design, Dear Doctor takes an in-depth look at Porcelain Veneers, a superior yet minimally invasive technique for smile enhancement. We'll explain not only when they're appropriate, but also when they're not... Read Article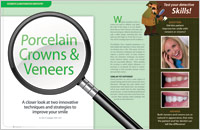 Porcelain Crowns & Veneers
A closer look at two innovative techniques and strategies to improve your smile. In many instances these two restorative techniques can produce nearly identical esthetic results, even though they are structurally different... Read Article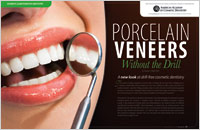 Porcelain Veneers – Without A Drill
No drilling — reality or ridiculous? A no-drill technique requires a second look, as new materials and concepts have created new esthetic possibilities. Reactions and opinions among dentists have ranged from absolute disbelief to moderate acceptance. This article gives hope and reasons for patients to get excited about this conservative drill-free cosmetic technique... Read Article
Locations
Queenston
631 Queenston Road
Sute 301
Hamilton, ON, L8K 6R5
(905) 573-1030
Binbrook
2668 Binbrook Road East
Suite 101
Binbrook, ON, L0R 1C0
(905) 692-1030
---
Contact Us
If you would like to become a patient or to learn more about the services we provide, please fill out the form below so that we may best serve you.